Latest Track/Nueva Cancion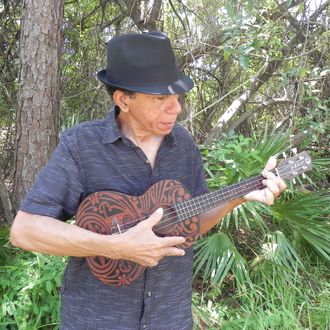 The Obession with MUSIC
Prolific songwriter of more than 1,000 songs. Compositor prolífico de mas de 1,000 canciones.
He discovered his love for music at a very young age. He did not realize that this would be a life obsession to write songs almost everyday all of his life. Fascinated by Mexican culture in all its forms, in his twenties and married, there was an opportunity to learn a bit of guitar with the future music director of Los Bucaneros Alfredo Zaragoza. Then he switched to bass which became the main instrument for many years. He became a co-singer and songwriter of a very popular band called Los Bucaneros. They played mainly Mexican music although half the band was Mexican and the other half Puerto Rican. The audience loved it and after each show the lines of autograph seekers went around the building. The band was one of the top bands in the Midwest United States. They were the opening act for many of the prominent Mexican Artists such as Los Bukis, Los Tigres del Norte and Lucha Villa among many others.  After the band broke up, he never stopped writing and has continued to work with other artists. "Por No Tener Papeles" is his first recording in over 30 years. It is in the genre of Mexican "Banda" and a song about the hardships of being an immigrant and not feeling like you belong in your new country and your homeland.  The song is for sale in Pandora, Amazon Music, Apple iTunes etc...You can also click at the bottom of the website to go directly to purchase it. For Sync & Licensing: narangezgroup@outlook.com
La Obsesión  con la música.
Descubrió su pasión por la música muy joven. No sabia que seria de por vida y que escribrese canciones todos los dias de por vida. Fascinado por la cultura mexicana en todas sus expresiones cuando estaba en sus veintes y casado hubo una oportunidad para aprender un poco de guitarra con Alfredo Zaragoza, el futuro director de Los Bucaneros. Luego pasó al bajo que se convertió su principal instrumento por muchos años. Se firmó como co-autor y unos de los cantantes de una banda muy popular llamado "Los Bucaneros". La banda tenia en su repertorio música mexicana aunque solo la mitad de los miembros fuesen mexicanos. La otra mitad eran puertoriqueños. La audiencia se enamoró de la banda y despues de cada show los aficionados se alineavan en colas larguíssimas para obtener autógrafos de los miembros de la banda. La banda fué una de las más reconocidas en el medio oeste estadudinense.  Fueron actos de abertura para muchas de las bandas mexicanas famosas como Los Bukis, Los Tigres del Norte y Lucha Villa, entre otras. Al la disolución de la banda él no ha cesado de escribir canciones y de colaborar con otros músicos. "Por No Tener Papeles" es su primera grabación en más de 30 años.  Es una cancion en el estilo "Banda" mexicano sobre las dificultades de ser un inmigrante sintiendose desplazado y alejado tanto de su país de origen como en su país de acogida.  La canción está en venta en Pandora, Amazon Music, Apple iTunes, etc…  Tambien puedes desplazarse directamente hasta la parte inferior de la página web para comprarla.  Para sincronización y licencias: narangezgroup@outlook.com